Ringside Remembrances — Anniversary Thoughts
Jay Shannon draws upon five decades as a devout wrestling fan to look at the past, present and future of professional wrestling.
This month, I celebrate a couple of important anniversaries. The first is my 2nd wedding anniversary to my lovely wife, Dianna. The other is my 6th anniversary with 1Wrestling.com. I thought I'd do a special little piece to celebrate my time with 1Wrestling.com. I want to look at the Top 10 memories during my time with 1Wrestling.com. Some are good, some are great and a couple are rather sad. I've also included a few pictures that highlight my time spent with all of you.
1. Wrestlefest 2010: A week-end that changed my life, forever.



In May, 2010, my wife, Dianna, and I decided to finally take time for a honeymoon. We got an invitation from Bill Apter to come out to Fremont, California for Big Time Wrestling's annual mega-show. This was the first time that Bill and I actually met in person. We had talked, numerous times, through e-mails and phone calls, but had never managed to cross paths, directly. Dianna and I arrived at the hotel where the show was held (and we were staying) and were almost immediately greeted by The Iron Sheik. He was a fantastic man who was so nice to us each and every time we ran into each other. In fact, he was the first and last wrestling-related person that we talked with. We also ran into an old friend, Ricky James. Ricky and I have known each other for close to a decade but hadn't seen each other in some time. He called me by my given name, which only Dianna and he would have known. He would eventually introduce me to "Dreamachine" Dustin Ardine and the crew from Pro Wrestling Destination. That started a great friendship that led to me working as their ring announcer and doing about a million other jobs, behind the scenes. Dianna and I also found some time for swimming in the indoor pool and a couple of really great dinners. We left with a million memories from the people we met: Bill, the PWD Crew, Virgil, Jody Kristofferson, Shane Kody, Nicolai Volkoff, B.G. James, Daffney, Tommy Dreamer, Awesome Kong/Kharma, Lilian Garcia and so many others. Our most vivid memory was the Q&A session with The Iron Sheik. Those who were there will likely remember that session forever. So much of what he said I could never print here. Let's just say Mr. Vaziri doesn't pull any punches when he discusses those he feels have insulted him.


2. Mom sees me call my first "Big Show"



As I mentioned above, I became Pro Wrestling Destination's second ring announcer. That happened after Challon, the original ring announcer, took an extended leave to explore some educational options. I worked a couple of house shows at the PWD Compound before stepping through the ropes for the first time at the Neil Road Rec Center. There were quite a few people in the crowd, including almost all my family. Other than Dianna, the most important person in the crowd was my mother, Doris. Mom and I hadn't seen each other in almost 20 years. The reasons for that are long and complicated and I won't bore you with them. Anyway, Mom had come to visit and meet my new family. She was in the front row as I climbed through the ropes to welcome the crowd to the show. During the show, several wrestlers landed right at her feet. She was just thrilled by the action and to see her only son get to live his dream. She has become one of PWD's biggest supporters, even though she lives several thousands of miles away (Amarillo, Texas). I send her show flyers and tapes of our shows and she shares them with all of her friends and our family in the area. It was a double thrill for me, working my first big card and having my mom there to see it.
3. A unique way to make friends
When "High Chief" Peter Maivia went into the Hall of Fame, I did a piece about the Island legend. There were a few interesting facts about The Rock's grandfather that I accidentally missed. A few days after the article posted, I got an e-mail that I never expected. Peter Maivia, Jr., a retired wrestler and the son of Peter Maivia, wrote me and thanked me for the article. He also supplied me with a wealth of information about his famous dad. He also sent through a ton of great photos, which are safely tucked away in my computer's memory. Over the next few years, Peter and I have become friends. He was one of the first people to reach out to me when my first wife, Linda, died in 2008. We have yet to meet, in person, but that will happen, someday. He is like a brother to me and I want to personally thank him for being such a good friend.
4. Survivor Series 2008
As I mentioned above, my first wife, Linda, died in 2008. In fact, she died one day before Survivor Series 2008. She had ordered the PPV for us to watch as an early Christmas present. We often sat together to watch Raw, Smackdown and various other wrestling shows. She had a million stories about growing up with wrestling in Ohio. On November 23, 2008, I sat there by myself and watched all that action. Well, physically I was alone. I know my best friend was right there next to me, cheering on her favorites too. Believe it or not, that show was the first step in healing. It was something we shared and it was her final gift to me.
5. Riding with greatness



Shortly after joining Pro Wrestling Destination, PWD Management asked me if I had access to a car. My daughter, Jessica, had her truck (Wookie) there and so we were asked to head over to the Sands Regency to pick up the Guest Stars for the show. It was Max and Jeremy Buck aka Generation Me. The drive from the hotel to the Neil Road Rec Center takes about 20 minutes or so, so my daughter and I had a great conversation with the two young superstars. After the show, Jess and her sons, Eric and Tim, took Max and Jeremy back to the hotel. She still grins when she thinks of the two great wrestlers riding in her truck.
6. Chris Benoit
I still remember chatting with friends at a now-defunct online Bingo site when I first got the news of the Benoit deaths. Most all of my friends online knew about my connection with wrestling and a couple of them began asking me what happened. Linda and I had been away from the computers and televisions when the news first broke. I began to surf wildly through the internet to try and get information about the tragic deaths. Linda and I sat in stunned silence when Monday Night Raw ran a touching tribute to Benoit. Over the next few days, the news of the murders began to trickle out from Georgia. I had been a huge fan of Nancy Sullivan-Benoit (Fallen Angel/Woman) and to hear about her being killed and the death of her son were just impossible to believe. The fallout of the Benoit tragedy still affects wrestling to this day. I was talking with the booker from Pro Wrestling Destination. just this past week-end, and he was telling me that four different high schools that he talked with about doing a show refused to let wrestlers come in…because of Chris Benoit and the tragedy.
7. My "Brother", Joe
Not long after starting with 1Wrestling.com, I began talking wrestling with Joe, who lives in New Jersey. Soon after, we began to send videos back and forth. I got to see some of the fun commercials from New Jersey, as well as shows that I couldn't get out here in Nevada, and he got to see Zomboo (late night horror host), local commercials and all kinds of odd programs that are unique to Northern Nevada/California. Gifts go back and forth for Christmases and Birthdays plus we just sit and talk about our years of experiences with the world of professional wrestling. We have been there to help each other during sad times and to laugh at a million fun stories. My parents only gave me sisters, but 1Wrestling.com gave me a brother.
8. The nicest "Monster" that you would ever want to meet.



Back in August, we held our Summerfest show. The main event pitted The Monster, Abyss against Shannon Ballard. I have to admit that I was just a little intimidated to meet Abyss, after seeing a video of him yelling at Bill Apter at a show, a few weeks earlier. I was pleasantly surprised to learn that Mr. Parks, Abyss' alter-ego, was one of the nicest guys that I had met in many years. He was very willing to sign autographs and take pictures with the entire PWD crew, individually. My grandson, Eric, even asked him if he would mind to wait a few minutes after the show finished to meet his mom and grandmother (my wife, Dianna). He smiled and said "Can I get dressed first?" We all laughed, since Chris was only about half-dressed, at the time. Every single person that had contact with Chris "Abyss" Parks came away with the same mindset: "Why can't they all be that great?" He was a pleasure to meet and work with and I can't wait for him to return to Reno.
9. The night the WWE came to Reno



The WWE has cancelled the last several shows in Reno. They do this because they don't sell as many tickets as they would like. A few years ago, they did do a show at the Livestock Event Center. My buddy, and former boss, Mike, got a pair of tickets because he is in the military. He invited me to go with him. This ended up being the first live show that I would cover for 1Wrestling.com. The experience wasn't all that great. Shawn Michaels and Lilian Garcia weren't there. The guy doing the announcing was barely audible because he had the microphone too close to his mouth. The arena turned up the heat and then turned off all the water fountains to force people to pay $5 for a small cup of soda. Did I hate the show? No, I actually had a great time. The matches were fun, especially "Hacksaw" Jim Duggan and Chris Masters. I still have the D-X "Cross" shirt that I paid $25 for. It was the only souvenir that I could afford. I've worn that shirt a million times and it's starting to get a bit thread bare. I didn't get to meet anyone from the WWE, that night, but I still got to be there and cover the show. I've covered dozens of shows, since then, but that was the first.
10. Bill Apter



I have been a fan of Bill for more years than I can count. Growing up, I was an avid reader of the "Apter Mags". I also watched so many of his interviews on television and later the internet. Six years ago, there was an open call on 1Wrestling.com for a new writer/columnist. I had worked for a few months at another (now gone) wrestling website and decided to take my chances. I got a message back saying that I would be given a shot. That note came from Bill, himself. I was thrilled. Over the next six years, Bill has been there to be my mentor and my friend. The picture below shows Bill, myself and my wife, Dianna, at Wrestlefest 2010. That same picture is printed and framed. It is placed on the wall amongst the other "Family" pictures, because Bill is family to the Shannons. Bill has been there to help me through rough times, offer suggestions for my columns, and help when I've said the wrong thing (I did once talk, in detail, about what Iron Sheik had to say about other wrestlers and personalities). All that I have accomplished (or ever will) in the wonderful world of professional wrestling is due to the guidance of my hero, my friend…Bill Apter. Thank you from the bottom of my heart.
In Conclusion: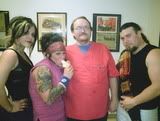 There are a million people that I should thank for six fantastic years at 1Wrestling.com. Bill, Bob Ryder and Joey Styles are top of the list. From there, Kirk White, Dustin Ardine, Tina Serrano and Arnie Katz. There are so many wrestlers that have helped me with their insights and suggestions. I also want to thank Challon for turning me into a ring announcer. My regular readers who have become friends in the last half dozen years: Joe, Sal, Chicago Ed, Lee and literally dozens of others that I speak to on a regular basis. And thousands who have taken the time to check out my rants and recaps, you all have a special place in my heart, even if I've never directly spoken to you. Thank you all for helping me live my dream…a dream that continues.
Peace
–Jay Shannon
Jade89512@yahoo.com